This weekend has been such a relaxing one: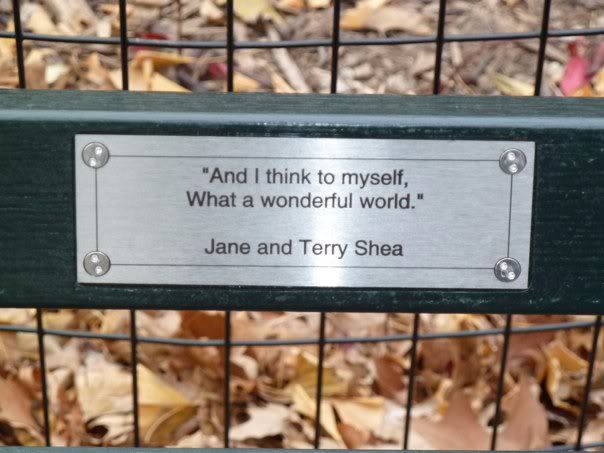 (photo from when we were in Central Park over Christmas)
Friday: woke up at 8.10am for an 8am class. Hauled ass over to Evans under 15 minutes. No makeup, scrappy jeans and tatty teeshirt, ponytailed hair, and I told my class that my dream job was to be a "fashion editor." Nice.
Saturday: spent 7h in total in our pursuit of
The Boiling Crab
. 2h roundtrip drive down to San Jose, 3h (yes, THREE hours) wait to get a table (thank goodness for Target), BUT IT WAS ALL WORTH IT. Pictures of our savagery will be posted once Juju uploads them onto Facebook, but I'll paint a mental image for you now:
- No plates or cutlery
- Clam, crab and prawn shells in the midst of us eating
- Dawn: "OMG I love that I can eat through my trash"
It was epic.
Sunday: Dinner out with the Deutsch 4th floor. They are insane and I love them.
The evidence-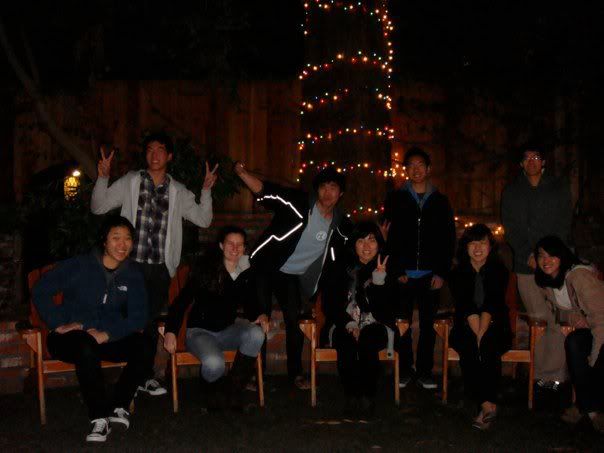 Jupiter's has crazy good pizza. We had 5 appetizers and 4 pizzas. It was incredibly good. There was SHRIMP on our pizza. SHRIMP!!
Possibly the only normal picture of the night. (Oops I think I'm blocking Perry)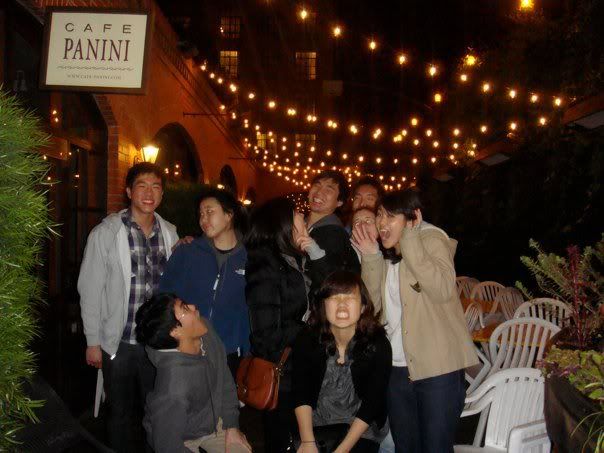 This is my favorite picture of all: Natasha's face, Judy's finger &nose, and my imitation of Rebecca's classic C pose that is all over my Photobooth photo album.
(on a side note: Dawn got the Nars Orgasm illuminator as a free sample from Sephora the other day and I tried it on today- isn't it fantastic?? I sparkled like a vampire in the sunlight, but I love the color!!)
CREAM is the latest fad to hit Berkeley. They sell ice-cream sandwiches.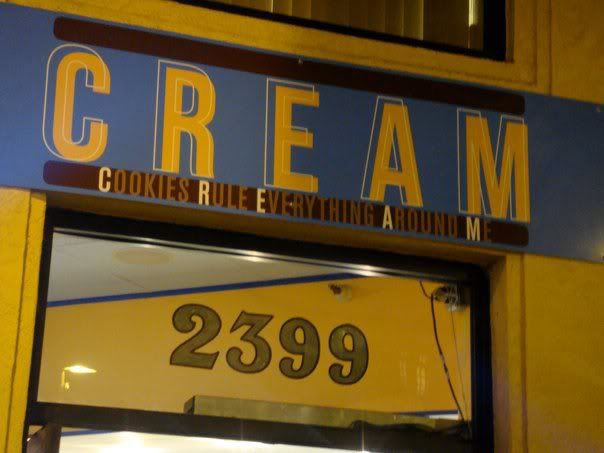 There are always long lines ): But today we braved it. This is Julie in the line: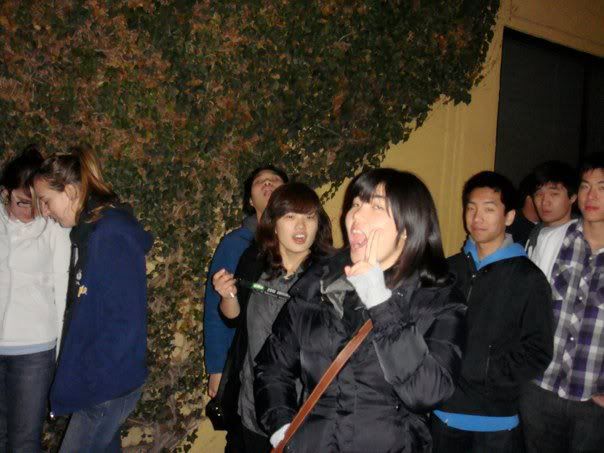 Julie was my roommate last year (and bunkmate; she slept in the bunk below mine and always rescued my fallen pillows) and I love her dearly :D
I had a chocolate chip and turtle (chocolate with caramel) cookie with soy mint and chip and it was yum. I miss living with these people- we saw each other ALL the time last year, even when it got busy in the spring and the only opportunity for interaction was in the bathroom (we had co-ed bathrooms...I'm glad those terrible days are over) They made my freshman year so much fun and made me feel like I had a family to return home to after class. Tonight just made me miss the times in DE 411 so much!!
The week ahead AWAITS! Info sessions and case workshops every night Monday-Thursday. Intimidating but exciting.
Also, as a side note, I think Berkeley has the loveliest, most helpful professors in the world. They are so incredibly generous and passionate and interacting with them everyday just reaffirms my love for Cal and my belief that coming here (and getting into so much debt) was worth it.