1. Hair twists
Whitney Eve show, source unknown
2. Slouchy sweaters with full skirts
Dries van Noten Fall 2010:
I tried to mimic this look all fall and I think I finally found the perfect skirt. Usually I like waisted skirts, but I bought a purple skirt from Old Navy (for $4. I smirk.) that sits on my hip and I'm going to try duping this look again because it's one of my favourites.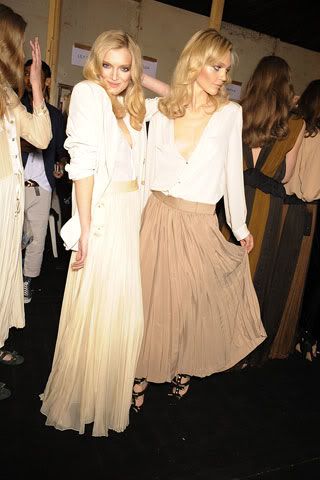 Chloe backstage, source and season unknown
The Sartorialist: I love the colors!! And the pleatedness of her skirt. And her umbrella.
Creatures of Comfort, Spring 2011. I love the colours. And long, full skirts.
When I spent inordinate amounts of time in Zara (I walked into Zara in Georgetown and walked out 15 minutes later with the perfect pair of slouchy, tapered grey pants, striped boatneck top, and high waisted black shorts. FIFTEEN MINUTES!! And I tried them on.), I realized that there was a lot of full, pleated, longer length skirts. Which made me really happy because I like longer skirts (when I wear short skirts I look like a skank because I show too much leg)... and I like dressing ladylike okay! Even though I am hopelessly NOT ladylike (need to learn how not to slouch and to gliiiiiidddeee while walking), I still secretly covet my mum's pearls and like going for tea. (I asked an American friend out for tea once, and she gave me this wtf stare.)
3. MAKEUP!
I've been reading too many makeup blogs ): Today I went out and bought 2 eyeshadow trios (for a total of $7... haha) And they've been really fun to play with, even though I have tiny Asian eyes. Still waiting for my e.l.f. stuff to come though, it's super annoying because I am really running out of blush (oh MAC mineralize in brunette sample...you were the best bronzer/ blush ever and I still search for you everytime I go to MAC/COO) so I get tempted to buy blush everytime I go to Walgreens even though I KNOW I have new blush coming soon.
4. Trying new things
Dawn convinced me to go to a salsa decal today
(I'll do another post on Cal's decals one day, I think it's a super cool concept and they have really hilarious ones this semester e.g. soccer and Jersey Shore; I say soccer is hilarious because there are so many Singaporeans in that class seizing the opportunity to fangirl and get graded on it.)
We're struggling to get into the class because there are 24 spaces and 130 applicants (oh Cal and impacted classes, what's new...) BUT I'm going for the free salsa beginner's lesson tomorrow with Jenna. This scares me because I have two right feet (both like to lead) and 0 balance, but I have decided that this year is the year of doing scary things (like going for networking sessions) AND SO salsa shall be one of them!!