I was formulating thoughts for a post today while walking home from Pier 24, but never really came up with a cohesive compilation. The YBCA staff went on an outing today to Pier 24 Photography, which houses one of the largest photography collections in the world. The exhibition currently on now is from the collection of Randi and Bob Fisher (son of Don and Doris Fisher, also known as the founders of Gap and the benefactors of the archway at Haas). To be really honest, I have never really thought of photography as "art" in the traditional way, because the traditional concept of art somehow seems to encompass the interaction of human hands as parallel and necessary to a medium of expression (this is why I have don't think I will ever consider Duchamp as an artist, which may be an extremely ignorant place to come from, but I really honestly cannot think of a urinal in and of itself as a piece of art.)
But I think to some extent I have come to change my mind. Maybe it was the setting (Pier 24 is this beautiful, calmly austere place with bare walls and brilliantly positioned framed photographs) and the seriousness to which we were asked to examine each photograph- whether it be 24 reiterations of a water tower or 16 pictures of models backstage at the NY fashion shows. To some extent it was disturbing to be asked to look at certain things in altered perspectives (kind of like the world tilting under your feet in this very disconcerting and constantly shifting manner), but so very very interesting to compare how size and positioning matters even in something as seemingly objective as a photograph.
Diane Arbus' photographs were particularly disturbing:
Albino Sword Swallower at a Carnival, Maryland, 1970
This was just incredibly painful to see. The perfect arc of her arms, the cross of the sword...you can't really tell that she is albino just from the photograph (even in real life), but the identification of the woman as an albino frames the photograph in this extraordinarily creepy way. There were also a couple of extremely disturbing photographs on 3 Russian midgets and twin girls and it all reminded me of a modern-day psychological thriller. Plus the aging of the photograph just adds to its weirdness and it's just incredibly disconcerting.
Jewish Giant at Home with his Parents in the Bronx, N.Y., 1970
One of the photographs that absolutely captured me (I literally just stood in front of this photograph for 5 minutes just STARING at it) was Hiroshi Sugimoto's Colors of Shadow C1025 (2006)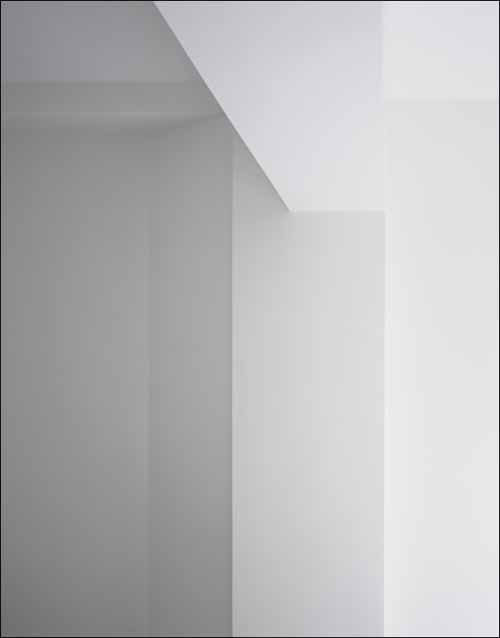 In real life, the angles are much sharper and more distinct. And it is just minimalism at its sleekest, finest, most interesting. The way the corners intersect each other and create shadows that delineate the presence of a new wall is just breathtaking. Okay I'm a super fan of the minimalist movement so I'm not exactly the most objective person to be making comments on minimalism, but it was so incredibly gorgeous! And just so calming in the middle of all these disturbing scenes of suburbia and the like.
This was the first photograph I took a picture of in the gallery (oh the irony!!!!): Walker Evans' Truck and Sign. It was just...really sad. And it reminded me of what we learnt last semester of the distinction between sign and signifier (oh White Noise, you continually haunt me), the difference what a word is and what a word says.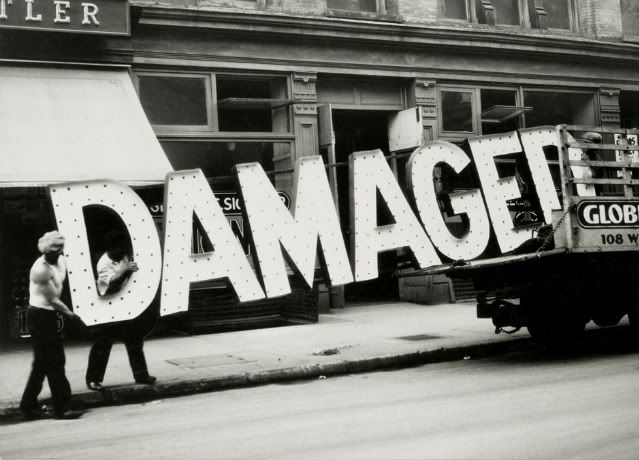 This is Richard Misrach's Untitled 19-2003.
It is absolutely massive in the gallery, and stretches across an entire wall. It is ABSOLUTELY BREATHTAKING in real life. The criss cross of the water currents and the little people getting out, the sunlight hitting the water and the shadows that hover at the bottom of the picture...it is just spellbinding. The gold of the sunlight on the water is just absolutely incandescent, even in a photograph.
I guess the thing that really struck me was how this was really a collection of simulacra and how people like me (who take crappy photos with their Blackberrys- p/s all the images here are from Google Images) are merely reproducing an image of an image. How can we capture the real thing, the true emotion, through a lens? I think something else that really struck me was how the glass frames were super shiny, and I kept seeing my face reflected in the photographs. And this just reminded me of how we constantly seek for ourselves in the things that we view/ the absolute selfishness of needing to find something to "relate to", either in a photograph/ piece of artwork/ novel. It reminded me of what Mr T said about Song Without Words when we were complaining how boring and stupid that song was, that we just couldn't appreciate the song because we could not find it within ourselves to connect with it, not that the song was objectively without merit. And that has always stopped me from making judgments about poetry
(okay, except Neruda. I REALLY DISLIKE NERUDA. Especially during the Valentine's Day period. And also- no more (i carry you in my heart)s. I love that poem, but if I see it again about true love and Valentine's Day I will injure that person violently.)
Hmm okay. I take back what I said about being judgmental about poetry haha.
Anyway, if you're visiting/ if you live in San Francisco, you should really check this space out. It's free to the public, but you have to contact them and schedule a viewing (they only let 20 people into the museum at a time). It's also almost right under the Bay Bridge, so it has gorgeous views of the bridge, and there's a very odd train track out into the water right by the entrance. It is very beautiful, but pretty damn weird.
I think after living in the Bay Area for approx. 1.5 years I can safely say that the Bay Area is beautiful. I didn't think so at first, but I walked around really randomly today while waiting for D to be done with work- along the waterfront into the ferry terminal building, up to Union Square, down to the museum (YBCA/ SF MoMA) area, then to the temporary bus terminal (that is a lot of walking in case you don't have a map of SF and are not tracing my route with your finger). And it is stunning. So much gorgeousness encapsulated in this tiny city of San Francisco.
Huge caveat to this post: I am an entirely uneducated art history girl and so this is truly the visceral response (// to I.A. Richards and the initial project of practical criticism, just to show off some modernism knowledge) that is utterly unmediated by knowledge and learning. Okay I'm going to read my marketing case now; writing about art makes me really happy! It's like purifying. Because today I was feeling this incredible sense of overcaffeinated zombie-ness, and then a very angry and infuriated selfish competitiveness, but now after thinking about the photographs I feel like my SOUL is cleansed. Capitalized because I know how cheesy I am.