I've been spending a ton of money on food even though I grocery shop every 2 weeks, and realized it was because we end up wasting so much food! We always leave it there on the counter until it's past expiry date. Especially bananas and bread!! So my solution to that was
1. NOT buy any more bananas and only buy fruit that I will truly eat (like cuties and blueberries. Which btw, are on sale at Safeway right now)
2. Only buy bananas in small amounts
3. Buy things to eat bananas with e.g. granola and yogurt
4. Preemptively make food that can be stored for longer with things I know will get expired e.g. BREAD.
I've really been trying to incorporate more salads and fruit into my meals lately, but salads are SO freaking expensive and it's ridiculous because it is a bowl of RAW VEGETABLES. It doesn't even require any skill to prepare!! We went to Berkeley Bowl yesterday to get organic vegetables (yes, we are very atas like that. I think the dining halls have spoilt me! The thought of eating unorganic raw vegetables for salads now makes me a little sick inside) for lunch and got a HUGE (like, bigger than my head) bag of romaine lettuce hearts for $1.99. THEY ARE PRE-WASHED. I don't even know what pre-washed means, but I am so lazy that the thought of someone else washing my salad vegetables for me is enough for me to click my heels twice in an elaborate display of joy.
(I also bought stuff to make risotto- arborio rice and chicken broth- and I'm going to try making a salmon risotto tonight! After this experience though, I'm going to look for recipes online on how to make my own chicken broth. I spent $3 on chicken water!!!!)
Okay back to the initial bread story: I wanted croutons and couldn't find it at Berkeley Bowl, so decided to go home to make it somehow. All the recipes online were complicated (e.g. process garlic and parsley flakes in a food processor) or used super atas bread (sourdough/ Italian loaf/ French loaf)- all of which a sad poor college student does NOT have, but I found and used this recipe, and I am pleased to say that my lunch for today will comprise a cesar salad with croutons. YES.
(Image and recipe from S
avory Sweet Life
-- really great blog with super accessible recipes and gorgeous photographs)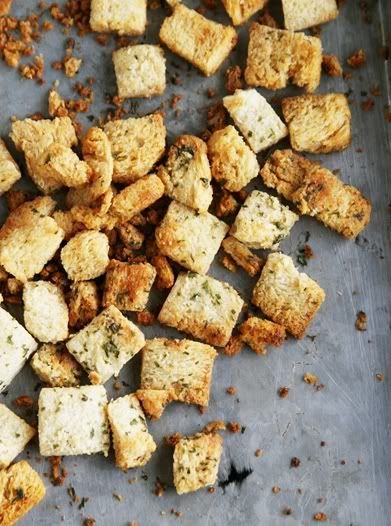 Ingredients:
6 slices regular, gluten-free, or low-carb bread (fresh or day old), crusts trimmed and cubed
3 tablespoons melted butter or olive oil
1 teaspoon garlic powder and a pinch of salt OR 1/2 teaspoon garlic salt
1 teaspoon dried parsley flakes
Directions:
Preheat oven to 300 degrees. Mix melted butter, garlic powder/salt, and parsley flakes until garlic powder is dissolved and mixture is clump free. Toss butter mixture with cubed bread in a medium bowl until cubes are evenly coated. Spread coated bread cubes on a cookie sheet in a single layer. Bake for 15 minutes and check to see if they are dry, crispy, and golden brown. Stir the croutons around and bake for an additional 15 minutes until done. Store croutons in air-tight container or ziplock bag. Enjoy!
--
It could have been my overeager oven, but 15minutes was enough for my batch of croutons-- I put it in for 20 minutes and some of the croutons were burnt. I also used a garlic-salt-parsley mix (bottle of dried herbs from Safeway) which we had lying around, and it would have been much easier if I had just drizzled the olive oil over the cubed bread and sprinkled the herbs over the bread without mixing them in a bowl because the mixture never really came together (it was still pretty discretely olive oil and herbs even after stirring wildly for a couple of minutes) AND it was really hard to pour evenly over the bread.
The recipe is ridiculously easy and SO yummy!! I used it in my Caesar salad today and it was 2000x better than the SF Soup Company's croutons because I like my croutons to be quite garlicky and I compensated for that appropriately (I stirred in 1 teaspoon of the herb mixture, then lightly sprinkled some more herbs over the bread)
Moral of the story: COLLEGE STUDENTS, TRY THIS! It totally improves your quality of life. Plus it gets rid of all our bread (because you use 6 slices of bread--and I used the cheapo Safeway white enriched bread nonsense that is cheap enough for college students to afford-- and that is literally enough for like 3 salads at most) and if you freeze the baked croutons, they last FOREVER AND EVER.
p/s My risotto experiment was a success(-ish). I need to buy some legit parmesan- I stirred in one Kraft American cheese single which will definitely make cheese purists roll over in agony. But it was surprisingly easy for a dish that you pay ridiculous money for in restaurants! Next time I want to stir in some cream and mushrooms mhmm.
This weekend was such a DOMESTICATED weekend. And pretty fun because Berkeley was like 27C today so we went out to Memorial Glade to tan and do some reading (Gertrude Stein in the sun...not the best idea. But I got through it some how!!) Okay back to Shakespeare meh