On Friday I helped out at the Song Dong Opening Night Party, and it was so much fun because I was coming off one of my most intense, crappiest week ever and it was nice just to not think about the bigger things in life and think about art~~ instead. I was there to help the photographer to record names, so it was really fun just to hang out and talk to random people. There was a lion dance show, and this adorable blonde lady came up to me and asked, "Is it okay if I yell? I mean, it's a museum right, do you think they will mind if I'm screaming? Is it too undignified for a place of art?" Hahaha.
It was such a great experience for me because I saw this exhibition being set up- so I saw the painting of the walls, the sticking on of decals, the installation of all the projections, and the slow laying out of the 10,000 items that comprise
Waste Not
, the highlight of this Song Dong exhibition; and then I got to meet Song Dong! And his family! It was like crazy, because Song Dong is this huge artist from China, and *I* got to meet him!! (okay fine, and like 1000 other people. But I'm going to ignore their existence.)
This is Song Dong, on the honored donor's tour...and it was just so crazy being able to hear his back story about these works. The exhibition is called
Song Dong: Dad and Mom, Don't Worry About Us, We are All Well,
and it is his tribute to his parents, who have since passed away. He was wearing a jacket that his mom sewed for him years ago, and he talked about how the red neon sign on the outside of the gallery was a sign to his parents that he and his family were okay- and that he conceived of this exhibition because it was a way of reconnecting with his family through art.
This is one of the main parts of the exhibition, the absolutely insane Waste Not installation, and I heard this guy in the space saying to his friend, "wow, even Chinese people have Hoarders" (the craaazy show on TV that shows people hoarding junk and they refuse to give away). The white containers on the floor are MOONCAKE CONTAINERS, btw! And there's this whole section on styrofoam. It was so crazy to see all this STUFF, which was the collection of his mother after the death of his dad, in some way to make up for the loss of his death. Song Dong and his mom worked together on this installation, and when it was first set up, she used to come hang out in the galleries and share her stories with the people who came to see it. She passed away in 2006 (I think, or 2009), but it's still this stunning documentation of a life through objects (there's even a small display of empty toothpaste containers!)
This is us interacting with one of the video projections! (Spot my mustard shoes and my bright green YBCA pass haha- I got so many compliments on my shoes! Hee. I should really wear them out more often). Image from the
YBCA Flickr
It was just really heartwarming because his family was here with him, and his wife is so sweet. His kid is madly adorable (and featured in one of the pieces, where he called her "the landscape of my family")- and Betti-Sue Hertz, the curator, also had her family out at the exhibition and it was just really cute to see small blonde boy playing with small Asian girl.
There was also other exhibitions upstairs, and I really liked this one, called Counterpoint, by Jennie C. Jones.
The sculpturalness of this installation- even the shelf it was built on is angled. So stunning. I think it's my favorite piece in the room.
Her work is inspired by jazz CDs and music, and I love the minimalism of the colour and lines placed just so to create such a sense of movement even in such a static medium.
There was also a small exhibition downstairs, called Daily Lives. This piece really caught my attention:
Yes, it is a laptop computer, and iron, and keyboard COVERED in green floral print. Isn't that insane?? The print is very reminiscent of the old Peranakan print (to me), and covering these very modern objects like the computer was just a total clash of two different worlds.
It was also really cool because one of the artists,
Cynthia Tom
, was there sewing for part of her exhibition, and there was fabric and paper for anyone to come and help sew. I was super excited, because I love all these crafty things and I haven't sewed for a long time. Dan was super not into it at first, but Cynthia Tom convinced him to do it, and he got REALLY into it! Haha. She even asked him if he was an engineer because he was so meticulous with his tiny stitches.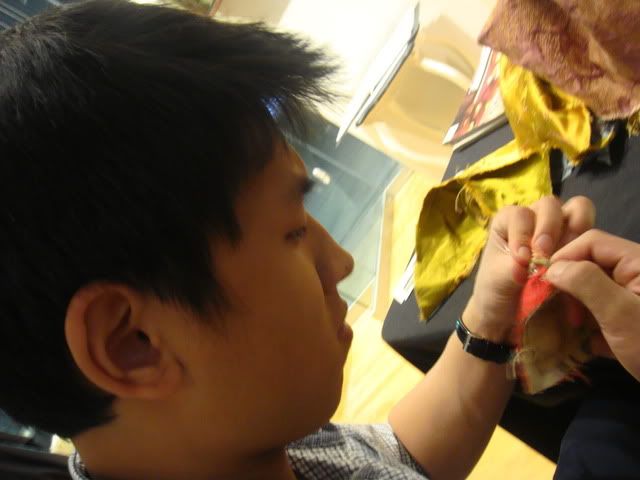 Intense Dan at work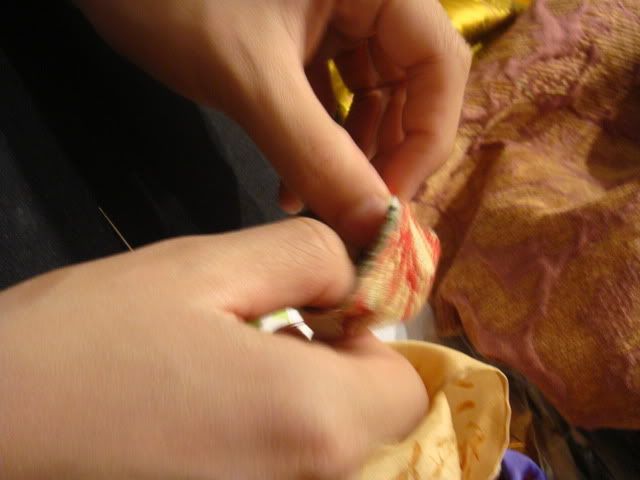 Flipping the pillow inside out!
Our final "love pillow":
(I sewed the heart in the front; my original pillow wasn't half as neat as this one so we just took this one home)
Back of the pillow! I love this print.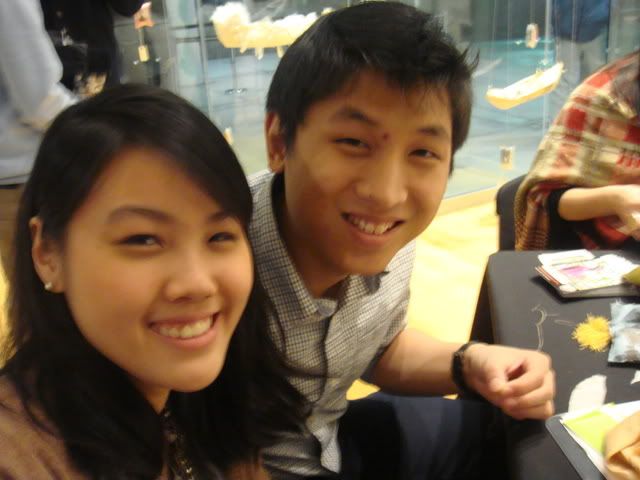 Us in the middle of sewing (note Dan holding a needle- so domestic!)
What a fun night! Cynthia Tom was the loveliest lady to talk to, and some of her work's also going to be on show at 1890 Bryant St Studios on April 16th and 17th, so I'm definitely going to check it out there.
After this we went to Fisherman's Wharf on a quest to get some animal fries, but I got suckered into Joe's Crab Shack (which is so much more expensive than the Boiling Crab! Boo!!) for some clam chowder and a crab cake sandwich. SOOOO good. Wanna go back for some more soon! Good meal to reward myself for handing all my academic stuff in on time despite it being so crazy.
Song Dong is showing at the YBCA galleries from now-June 12th, and Daily Lives is at the Room for Big Ideas also from now-June 12th. Definitely go check it out- YBCA always has crazy cool exhibitions.