I found myself whining really badly today during work and had to take a mental step back and slap myself for being so unappreciative of everything that I have. I worked really hard all through high school to study in the US, but now that I'm here, it just seems like I'm sad and angsty all the time (today's angst was mainly because the F drove off RIGHT IN FRONT OF ME at 10.13am even though it has been driving off at 10.15am for the past 5 weeks, AND I missed the BART because of a hoard of small people cluttering up the staircase.
Okay I'm breathing.)
But this will cease immediately! I have realized that I get the crankiest on Mondays (when the thought of leaving the beautiful, lazy weekend for the ridiculously hectic weekday just makes everything 42947x worse) and will INSIST on finding 5 things to be grateful for on Mondays. Because even Mondays can be celebrated when you're living the life that you've worked so hard to achieve.
1. I actually finished a huge chunk of work today! Which made me very proud of myself (: it feels really good to have accomplished so much today even though it was only 5h (and countless trips to the kitchen for green tea... yum! I think I am becoming British. In America. I don't even drink this much tea back home!!)
2. I handle donations as part of my internship, and spend heaps of time filling up forms and addressing envelopes for raffle donations and the like. Today for the first time I got a thank you letter!! It was from
Berkeley West Edge Opera
, and they even gave me (okay fine, they gave it to YBCA, but J gave it to me) 2 season tickets!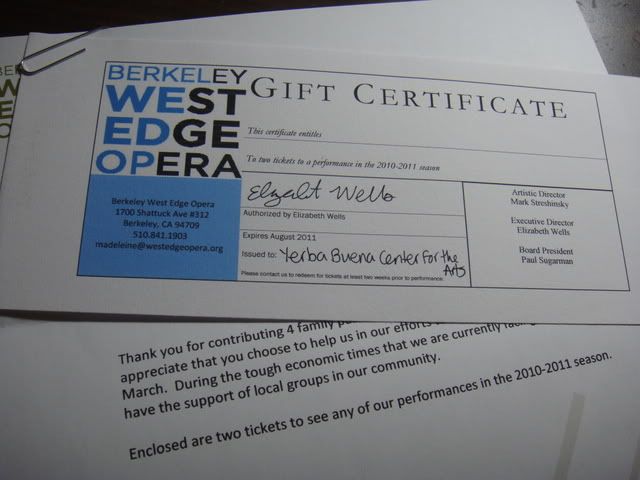 I'm super excited because I've never actually watched opera before (though I guess opera's just a longer, more vocally-focused version of a musical with less dancing??? Or not. Opera-purists please don't kill me). I'm actually really interested in watching
The Carmen Fixation
because it reminds me a lot of Othello (which we're currently reading in my Shakespeare class). Free stuff = unadulterated happiness.
3. Two tops from Crossroads! I took a quick peek into Crossroads today, and emerged with 2 tops. Looks guiltily away. They're both second-hand though, which means I am recycling them, which makes me buying these 2 tops practically tantamount to saving the earth. Yes.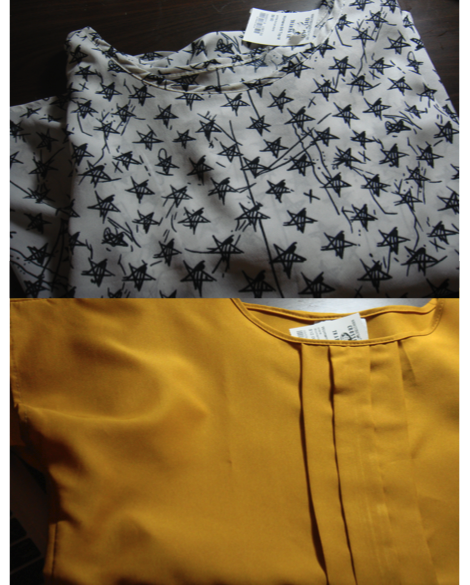 I'm really happy with the both of them though. The first top with the stars is sheer and oversized, and has a really interesting back; the second is this gorgeous dark mustard with pleats straight down the front. It reminded me of Celine/ Jil Sander minimalism (although yes I know neither Phoebe Philo nor Raf Simons, or for that matter, Francisco Costa [from Calvin Klein] would be caught dead using polyester) and I thought would be a good business casual top and not as boring as Brooks Brothers.
4. Yummy dinner with Dan. Who both cooked AND cleaned. Smirks happily.
5. Am also super grateful that I don't have much academic work this week, which gives me 120% of my time to spend on outside activities (especially with a midpoint deliverable due this Saturday). Plus I just received a really excited email from one of my interns about her poetry class, and I love reading emails like this! It makes me so happy that I'm spending my time emailing and setting up sites instead of reading Toomer's Crane (haha, kidding- I'm on that right after this blog entry)
6. At the risk of sounding annoying, I am suddenly very, very grateful for my 'A' Level grades. Yes I worked very hard for them, but I could not have done any of it without the crazy incredible support of my parents- who bugged me to sleep early and rest well, who forced me out of the house when I was studying 10h a day in 2008 to get air, who bought me salmon because "it makes you smarter" (even though I just used that as an excuse to get more sashimi...hee), who convinced me to take H2 math even though 16 year old me was convinced that math was useless, who let me take philosophy and literature even though they weren't traditional subjects to take. Couldn't have done it without my teachers- they are by far the most caring, most inspiring, and best teachers I've ever had. Couldn't have done it without my friends. Couldn't have done it without a healthy dose of luck, and heaps of prayer.
Seeing my juniors and my brother/ his friends get back their results and having to cope with the aftermath (happy/sad) has made me so grateful that I have a family who will support us (my brother and I) no matter what happens, and who are proud of us and are willing to put in everything they have to see us succeed.
Go squish your family! I suddenly miss mine a lot.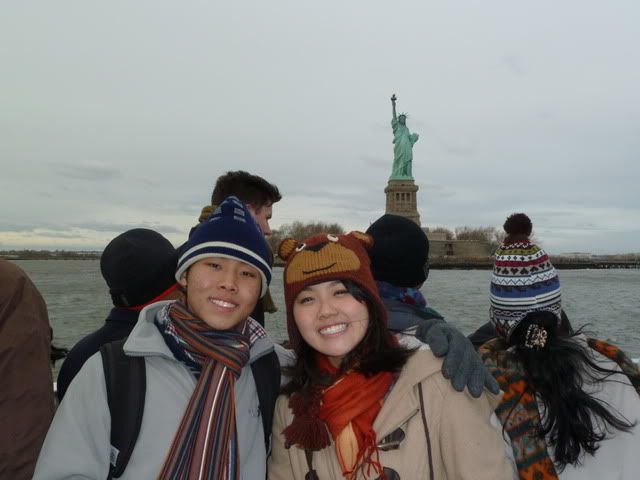 Grateful that I have the best brother in the world. (pictures from our epic winter break together- where I was truly and finally convinced that he is adopted)
That was totally not 5 things. My grateful experiment exploded on me- but I guess that's what gratitude does, exponentially multiply the more you expend energy on thinking about the happy things in life.