By now you should know that I have a crazy abiding love for smart, intellectual, and 'inside' coverage of the fashion industry. I am an avid reader of
The Business of Fashion
(fawning post about my love for BoF
here
), the
NY Times
- Suzy Menkes and Cathy Horyn, I feel, really intellectualize fashion. They clearly have a love for fabric and fit, and write about fashion in a way that does not diminish the creative force behind the design and the history behind many of the fashion houses.
I also really love the Wall Street Journal's fashion coverage, especially since Anna Wintour is on their April cover!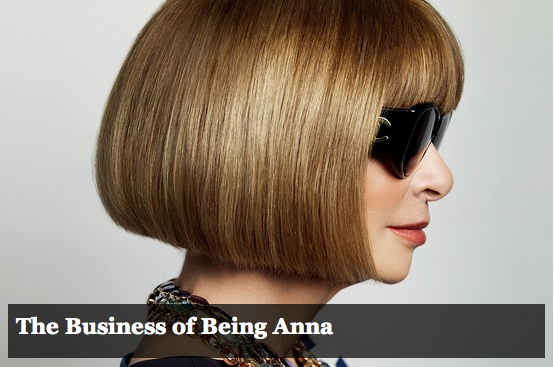 Some of my favourite quotes from the article:

Instead, Wintour has an arid sense of humor about her reputation. At a screening of "The Devil Wears Prada," based on a roman à clef by a former Wintour assistant, she wore Prada. During a trip to China last fall, she was asked during a press conference whether she was really like that. "It's true, of course, that I beat all my assistants, lock them in a cupboard and don't pay them," she deadpanned. "She's got an eye-rolling way of laughing at the circus, even while she takes it deadly seriously," says Luhrmann. Wintour herself puts it more simply: "I care deeply about my friends and my family and they know it, but work is work."

"With all the new media outlets out there, with all the noise, a voice of authority and calm like Vogue becomes more important than ever. The more eyes on fashion, the more opinions about fashion, the more exploration of fashion around the world, the better it is for Vogue. Vogue is like Nike or Coca-Cola—this huge global brand. I want to enhance it, I want to protect it, and I want it to be part of the conversation."

Full article
here
. It speaks for itself, so there is no need for my further commentary except- I have the greatest of respect for Anna Wintour and am very amazed at how much she has achieved!
(They also have
an interview with A.P.C.'s founder
, Jean Touitou, up on their website now which is worth a read too, if you're like me and covet A.P.C. clothing every season)
p/s I just heard that Cal acceptances went out today, so if you got in, CONGRATULATIONS!! Cal is a GREAT school and I am fervently pro-Cal. If you have any questions (especially if you're a Singaporean who's comparing Berkeley with other schools, specifically Cal v. east coast colleges for economics/ international relations/ business/ english), feel free to ask me
here
(: I'm so excited for the new freshmen class, especially since the chorale boys all applied this year!! (chorale boys -and you know who you are- tell me how it went!)