I think one of my biggest disappointments after coming to California was realizing that The O.C. had fed me a LIE. Berkeley has no beaches, limited sunlight (mostly filtered through fog/ a thin shield of rain, especially during the spring) and no palm trees!!
Well, okay, that's not entirely true. We do have beaches about an hour away by car, and we decided to go to Muir Beach last Saturday because we were in the area (it was the same day that we went to Muir Woods)-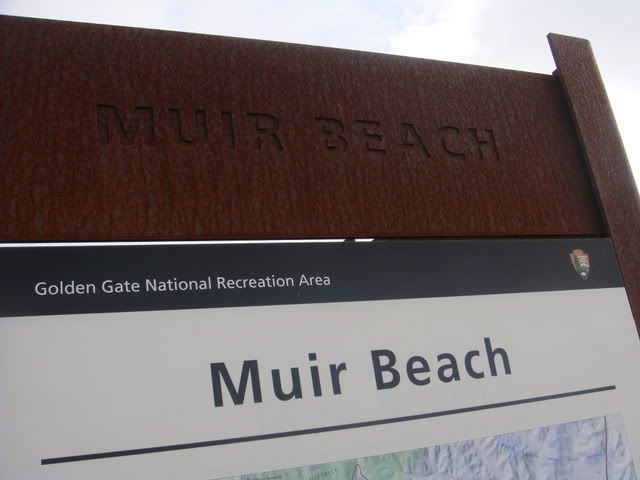 We were totally tricked into climbing up the side of the cliff by this sign:
LIES!! We literally scrambled up the side of the cliff and never reached the viewpoint.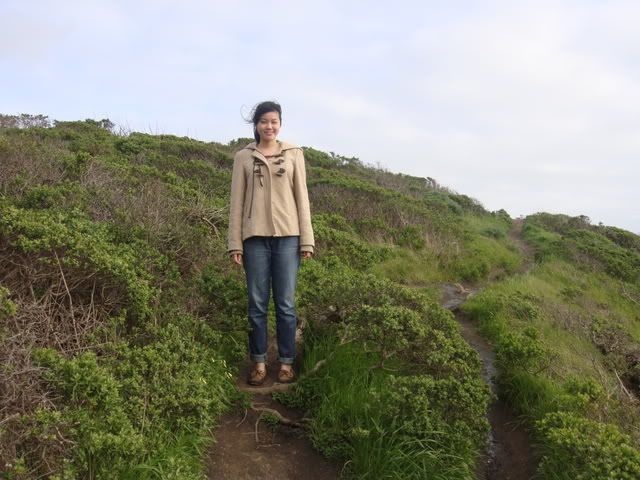 Face of fear as I contemplated what falling off cliff might actually constitute.
Muir Beach is this adorable little place, fringed on one end by rolling cliffs, and on the other by hills dotted with residential homes. There were only 4 other groups there, and it was nice that it wasn't grossly overcrowded with tourists. A surfer brushed past me on the way to the beach from the parking lot, and he smiled, and I smiled; there was this camaraderie about it that was tinged with an understanding that this was not the best beach in the world for surfing, but it was our beach- that we were sharing those few moments together, the 5 groups of us on that beach, no matter how brief the moment.
I have come to better appreciate those few moments where you suddenly feel interconnected with a larger world- the world sometimes seems so beyond my reach, that my dreams are too large for me to grapple with and hold tangibly in the palm of my hands, but brief meetings like this give me hope. Not only that there is a greater humanity out there that I am a part of and that I am not alone, but also that physical presence can still hold the power that Twitter or Facebook cannot contain. THAT gives me a lot of hope.
We ate at Charlie Hong Kong in Mill Valley after that- it's a very safe town, a very pretty town. And the food was absolutely delicious (though the food we had the next day was even better!! Pacific Catch right opposite Golden Gate Park in San Francisco. The Haiwaiian Poke asian bowl is just... so. good. omg.) It's Chinese food but made with a ton of organic vegetables, free-range chicken, wheat-free noodles... this is basically Chinese food catered to the socially-conscious Californian consumer. I had the green curry chicken noodle, and the curry added just the right amount of kick. I felt super healthy eating my meal, even though I guess it's just something that I paid nearly 2x the price of a meal that I could have easily gotten at Thai Basil.
25 Miller Avenue
Mill Valley, CA 94941-1903
Spring break was only 3 days away, but why does it feel so much longer ago? Need to find that same sense of peace and balance again; I completed work today in a total haze of confusion and caffeine.