I'm actually embarrassed at how easy it was to make mashed potatoes. WHY did I take to long to try my hand at making them?? I like mine really creamy and garlicky, and was intending to eat this with my baked salmon for dinner later today, but O.M.G. they are tooooo good to wait.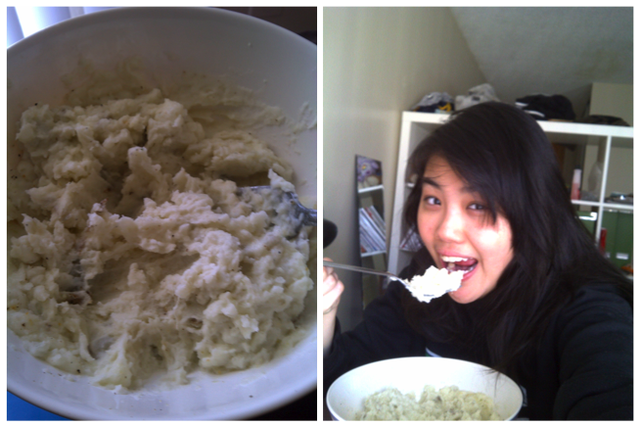 Say hi to my makeupless, PJ Sunday face! And to the BEST mashed potatoes I have ever eaten aaahhh.
Ingredients
2 potatoes
Heavy cream (I estimated an amount, I think I put in 2 or 3 tablespoons?)
Garlic
Butter
Pepper
Garlic powder with parsley
What I did
1. Peeled and cubed potatoes. I like having some skin in my mashed potatoes, so I left some on.
2. Put naked little potato squares into boiling water with 3 cloves of garlic (in my defense... I really do like garlic a lot. And I put in a ton of cream.)
3. Warm cream in neighbouring pot
4. Take potatoes (and garlic) out when soft, mash all together in bowl with warm cream, butter (at room temperature; I chucked in the microwave for 15 seconds)
5. Season with pepper and garlic powder
CONSUME.
I feel like I should begin a series of posts: easy and delicious food to cook as a college student who would rather spend time on Facebook than in the kitchen. Already started on this with my
crouton post
. Might need to add to this with how I make salmon (which is basically hunk of salmon goodness + teriyaki sauce + olive oil + oven = DELICIOUSNESS in under 30 minutes)
Okay, back to... thinking about doing homework. Hmm.