Walter is one of those people I wished I had hung out more when we were in school together. He's one of those effervescent, enthusiastic people who just
make
things happen- take for example last year's
Proscenium
, which Walter wrote, co-produced, and directed because he felt compelled to stage his original work. I met Walter for lunch last Friday and got him to answer some questions about his latest project, staging Neil Simon's
California Suite
with a loose collective of actors named Visual Monsters.
Tell me about the project
Visual Monsters was born when Mao Hui, Jane Chia, and I wanted to further our passion for theatre. We decided to stage
California Suite
as it was a fun, light-hearted comedic play. Who doesn't like comedies! We also intended to develop the theatrical abilities of the people working with us, thus most of our cast and production team members are adept multi-taskers! We think that the young, up-and-coming talents who are working with us will benefit from such an experience.
Why the name Visual Monsters?
We're called Visual Monsters because everyone of us is ugly.
[I agree, please see the above picture... ;)]
No, in all seriousness, we think that theatre is a highly visual art form. It also takes a monster of an effort to achieve a respectable quality level. Not to mention that Jane is also as scary as a monster when she gets angry, so the name can also be seen as a homage to her anger. Kidding.
Where do you see yourself &Visual Monsters in 5 years?
Visual Monsters is a company that we really intend to keep alive, even if we manage our own concurrent careers
[and live on different continents- Walter will be starting his undergraduate career at the University of Chicago in the fall]
. I hope that the core team of Visual Monsters stays together as the years pass and that we work hard to produce plays on an annual or bi-annual basis. This will allow us to continue our mission of developing the talents of pre-professional theatre enthusiasts.
What inspires you?[Walter is not easily inspired]
It really depends... can I say "nothing"? I guess the experiences that I go through everyday form the basis on which I build the work which I do. Being alive is inspiring.
Could you create a How-To manual for anyone wishing to produce a play in Singapore?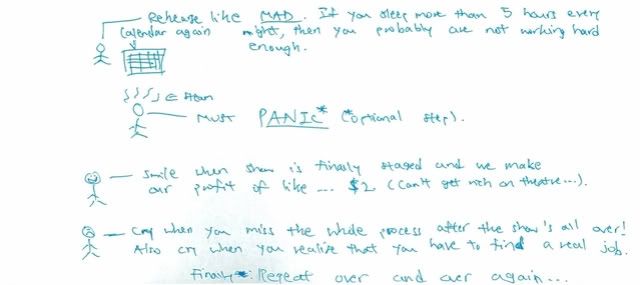 California Suite will be staged 28-30 July 2011, 8pm at the Arts House.
Walter is the first to be profiled in (what will hopefully become) a series called Interesting People Doing Interesting Things. This unwiedly name nonetheless belies the many truly interesting things that people my age, on the cusp of adulthood at 21, are doing in Singapore and around the world. If you'd like to be profiled or know someone doing cool stuff, feel free to drop me an email at
hello.towit@gmail.com
!