Not going to lie- I love my job, but it: 1. sucks being unpaid 2. kinda sucks when you have no real time to yourself/ for anyone else 3. seriously sucks if you only take both 1. and 2. into consideration. In all fairness, I am having an amazing time learning on the job, have some of the best colleagues ever, and really do love my job (but not the way it has basically taken over my summer). Just feeling a little burnt out and tired- it's one of those Mondays after coming back to office from a weekend also spent in the office (oh wait, do other people actually have weekends off?? That's strange...) (KIDDING. I did have most of Sunday off. And last Sunday too.)
Su Blackwell's work though, has just completely captured me. She does these whimsical, magical works of art with just paper, books, and a huge dash of creative genius. I want to run away into her woodsy craft world!!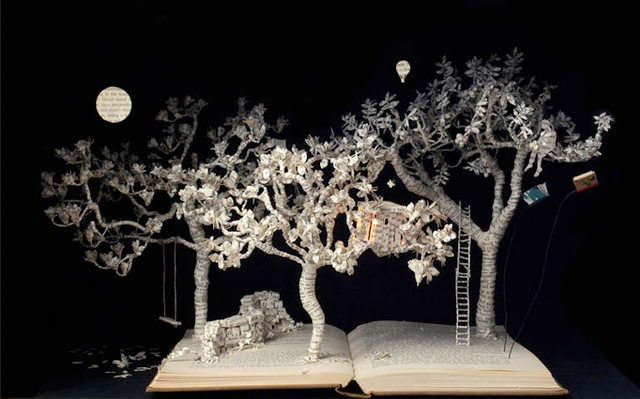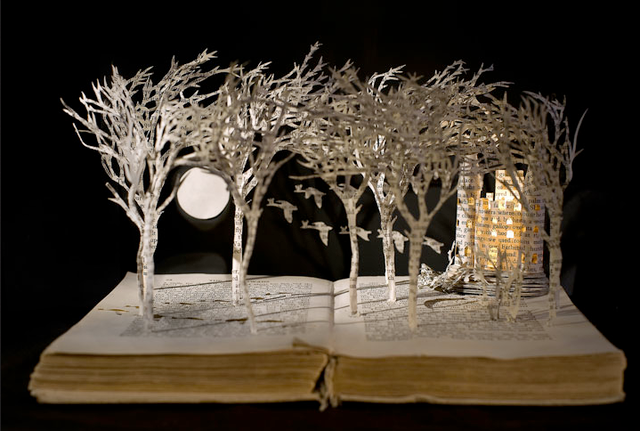 [1] The Baron in the Trees: so, so drawn to this piece after assisting for the BRILLIANT
Ramesh Meyyappan
show,
Snails and Ketchup
, 2 weeks ago, which was inspired by this same novel, The Baron in the Trees by Italo Calvino.
[2] Detail from Hazel Tree
[4] Detail from the skirt of a dress that she constructed out of paper. There are no words.
Anyone want to come live with me in her world? Ready to leave now kthxbai.
All images from her website.