I am a huge fan of the letterpress- I am in fact dying to take one of
Jordan Ferney's
letterpress classes in San Francisco except that 1. I still haven't decided what my business cards should say 2. She is currently in Paris. Boo. But anyway, it was a huge and lovely surprise to me to find out that Singapore now has a letterpress studio!
Introducing the gorgeous prints and colours from Paper Tiger Press:
I love the subtle oriental influences, the absolutely STUNNING envelopes- the blue/white tiled print on the inside of the first one reminds me so much of the floor of a Peranakan shophouse, and the ornateness of the return address on the second! Gave me palpitations of happiness. The attention to detail is just impeccable. Including their super adorable namecards-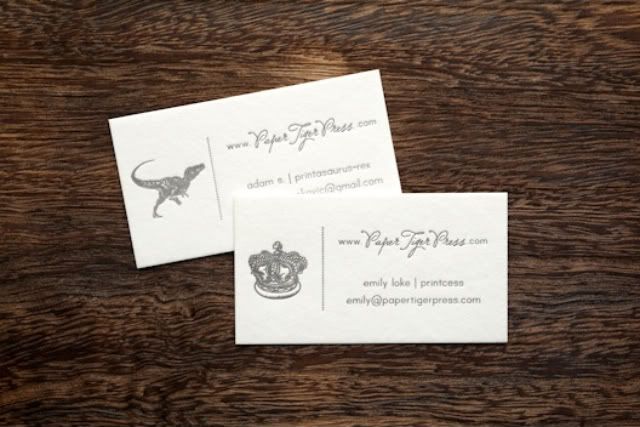 LETTERPRESSED DINOSAURS.
I die.
Head on over to
Paper Tiger Press
for more gorgeous products, including bespoke letterpress stationery. BESPOKE! Agh, the possibilities. I might even write more actual letters and less emails if I had such lovely paper to write on.
All images from their online gallery and equally lovely blog.