I'm still slightly stuck in the past- I really love being back, back in my own space (I'm almost all moved in, which is really great for my heart rate because just seeing all the boxes lying unopened in my bedroom space was giving me heart palpitations), back in school and learning stuff, but I am still thinking about home a lot. I'm not very good with change (understatement). I think part of that is also the really amazing time I had at my internship. Yes it was tough giving up my weekends/ weeknights to be at events where I didn't really know how necessary my presence was, or to be in charge of leading people around backstage when I barely even knew how to navigate, or, a hundred other things that made me annoyed in that awkward in-between adjusting beginning. But there were so many other things I learnt and so many people I've met that completely validates my choice to spend my summer at the Esplanade.
[1] & [2] The gorgeous views from inside: Marina Bay Sands and the Merlion (Singapore icon)
[3] The transparencies I helped the visual arts interns do to be sent out to Singapore schools
[4] The Studios resource table at the National Library that Hazel and I devised and constructed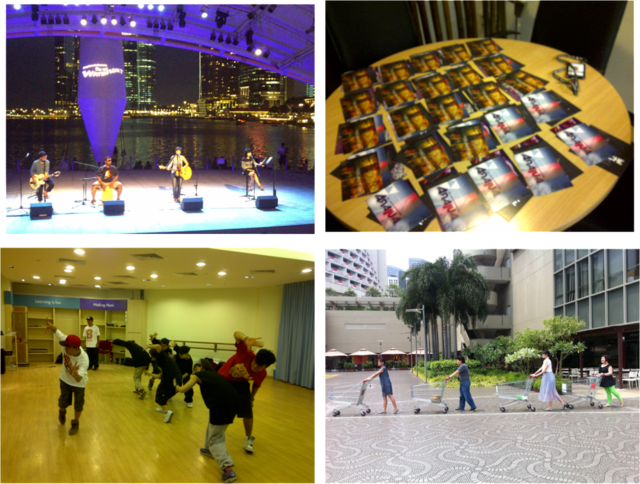 [5] On the Waterfront with Amanda Tee and the Dugong Warriors- at the Outdoor Theatre with the amazing Marina Bay/ financial district skyline as a backdrop
[6] Baybeats postcards!!
[7] Yfest dance crew rehearsals
[8] Our Beatles cover with the Carrefour carts that we trundled across Suntec and Marina Square, to the amusement of many many lunchtime office folks
Looking back at these pictures- I have so many great memories, so many great stories (e.g. How do you get a sleeping deaf person out of his hotel room if his [hearing] partner's also asleep?), so many great experiences.
Things that I've learnt:
1. I have been culturally deprived in Berkeley because I've been too lazy to get off my ass and just buy some tickets. This must change. Over the summer, I watched so many productions, shows, concerts, that I realised how much not watching theatre or concerts has taken away something from me. Like I've just slowly ignored this little part of myself and left it to wither.
2. It's okay if you're not doing something- I know that I'm the kind of person who needs to be constantly doing something in order to validate my presence. But this summer I've learnt that it's okay to sit back, listen to some Youtube, and experience the moment; that presence can be enough (and it doesn't mean I'm being a bad intern or a waste of space).
3. The arts are more powerful than even I think- and that I'm only just beginning to know how to articulate this fact to the naysayers out there.
4. The people you work with are equally important as the work that you do- my colleagues are some of the most kind-hearted, thoughtful, dedicated, amazing people & it was really such a privilege learning from them.
Dearest Esplanade, I will never forget this lifechanging summer.