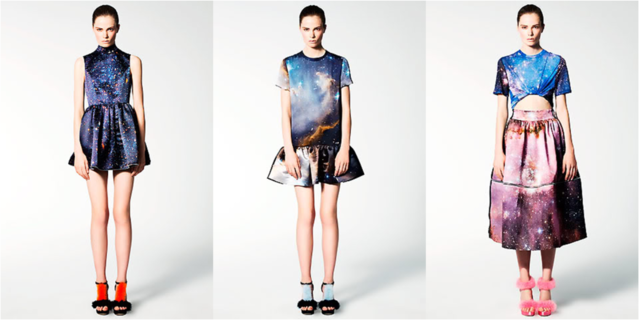 These songs make me feel like I should be in a quiet, dark room. Or in a Harry Potter movie. (I guess in the case of the 2nd piece, in an Indonesian-inspired Harry Potter?) I am not usually a big fan of music without lyrics, but consider me a recent convert:
1. A Universe Made of Strings by In Each Hand a Cutlass
2. unknown piece by GammaRays
3. October by Eric Whitacre

They also remind me a lot of Christopher Kane's galaxy-inspired Resort 2011 collection (let's agree to ignore those misguided fuzzy shoes). Love the tulip-shaped skirts and the casualness of the dresses. Today's songs are like that too, I think, all sparkly and glowing and wide-spanning.