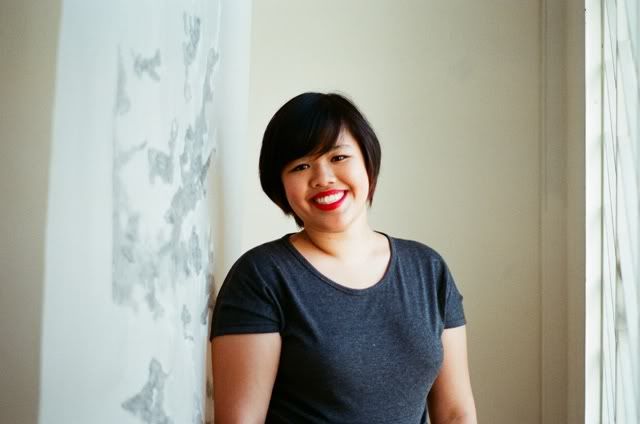 This interview is extremely belated- I had the privilege of speaking to Berny when I was back in Singapore almost 3 months ago (!), and have only now found the time to do our interview justice on my blog. Berny is the incredible curator behind the PLACE art exhibition held in July (my review of the exhibition here), and is also an incredible graphic designer and all-round artistic, creative person. Our conversation about inspiration, place, curation, and the oddness of never quite leaving home:
What inspires you?
[We had a long discussion about whether or not this question meant inspiration "as an artist" or inspiration "in life," we came to a happy in-between of the two.]
I draw a lot of inspiration from negative emotions, which push me to want to create. For my piece in PLACE, it was an idea of starting with the destructed [her piece in PLACE started with an image of paint peeling off an old wall], and then making a positive out of a negative. I am inspired by the sad and depressing things, but using them to create. I am also inspired by urban spaces—more formalistically though. Urban spaces are where I can get imagery from. I like looking at urban spaces more than trees, for example, though it is nice that Singapore has so many trees. Buildings, especially aging buildings—they literally represent surroundings and people. I take everything that happens in life and see what comes out of it.
I can identify how something that happened in my life is reflected in every component of my work. It's a form of situational awareness
. My friends call me an emo person, but really, I try to draw as much positivity out of any situation.
What is 1 thing in your room that encapsulates who you are right now?
My room is very messy now…and I am always wary of using objects to fully describe myself. But I think luggage, because I am leaving [for New York] in 3 weeks. It's not in the sense of lostness or being in transit, but the knowledge that I am dividing my time and myself between Singapore and New York. I feel like a very different person in each place. Here, I feel at home. New York has a lot of stuff going on, exciting art related things, but—each place has its negative and positive points, but it really is just a sense that I am dividing my life between these two places. When I come home to Singapore, I feel like I have never left; I become who I was previously.
What does PLACE mean to you?
It is being aware of the surroundings, being aware of myself in those surroundings. Knowing what home feels like—understanding that it is in Singapore that I feel the most at home at. Knowing home, and knowing who in my life I can depend on.
What are some of the challenges in curating an exhibition?
I am new to curating, and especially because I am one of the artists, I had a tendency not to be decisive. As the curator, I had to maintain a clear mind, pinpoint problems and solutions, and voice that out. I had to be able to take charge of the situation and not let things slide—I feel like it's my duty as a curator to be a support system to the artists, and to assist in making each person's work as close to their artistic vision as possible. PLACE wasn't a show of ready-made works. There was a lot of collaboration and creation specifically for the show, and I felt like I had to be in service of that idea rather than find a framework to fit the works into.
What's your favourite colour and why?
It used to be orange and now it's grey—take that in whatever light you'd prefer. I got very into grey in JC, and it's not out of any cheesy life lessons about the grey areas in life, but because it is neutral and yet somber. My friends all know I love buying grey and drapey clothes!
"I think I just looked at all these people wearing only black and wanted to wear monochrome in a different way
. I wanted to wear monochrome in a different way. I like grey's neutral quality; that it is very quiet but also very expressive. Okay, many deep thoughts about grey, but—it's just grey actually.
Could you create a How-To manual for anyone who wants to curate an exhibition in Singapore

?
Thank you, Berny! I will visit you in New York soon hopefully, and I hope you are keeping warm over in the snow-trodden east coast!
This interview is part of a series called Interesting People Doing Interesting Things. This unwiedly name nevertheless belies the many truly interesting things that people my age, on the cusp of adulthood at 21, are doing in Singapore and around the world. The first person to be profiled was the theater producer wunderkind
Walter Wong
. If you'd like to be profiled or know someone doing cool stuff, feel free to drop me an email at hello.towit@gmail.com!