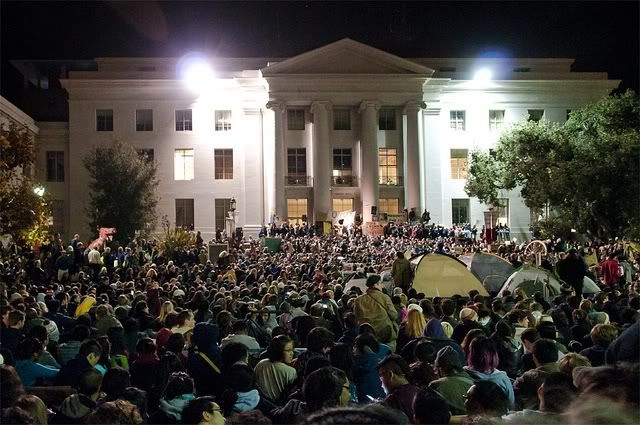 In the spirit of Big Game week, I'm celebrating all that is Cal (including an intensely protected history of free speech and the right to protest) with a mellow California-inspired playlist.
1.
California One/ Youth and Beauty Brigade
by The Decemberists
2.
West Coast Friendship
by Owl City
3.
Maybe California
by Tori Amos
It's been a slightly weird couple of days. I see people dancing, making art, planting flowers in the ground (this is literal; people have actually started transporting flowers to campus) on Sproul- there's this sense of exuberance, of hope, that I think this community hasn't seen since Obama was elected. But then I head up to Haas, and- we have counsellors coming to our classes, admin staff coming in with somber faces. In TBG on Wednesday, we had a moment of silence for Chris Travis.
On one hand there's a spirit of artistic, spirited protests; on the other hand I think my gut hasn't caught up with my brain. Today when I walked into the computing center, there was this little clutch in my stomach. Even though I know I am being ludicrous- anyone could have done it. With a gun and enough stress anyone at Haas could have done what he did, including myself. And that is what I think scares me the most, that the space we thought was safe, was sacred, that the people in our classes and in our lives- we don't know them. Not really.
Daily Cal coverage on
Occupy Cal
More information on the
shooting at Haas
Image from
Antenna Farm
- thousands of students at a night rally on Sproul on Tuesday as part of Occupy Cal. Also, the opinions expressed in this post are solely my opinions/ my views of the events taking place on campus as a Cal student and Haas undergraduate.