I think it's hard to describe my state of mind before leaving for Chicago. Fall semester's always extra hard because the first longish break is Thanksgiving and comes at the 13th week of the semester, and 3 months of ridiculous nonstop work is just not something my weak Singaporean (i.e. 2 final exams a year= study for 2 months and party for 10) mind is equipped to handle.
So Chicago was a huge relief. Especially with the knowledge that I would be finally meeting some of my dearest friends who I haven't met in forever--clearly I was predisposed to like this city even before stepping foot on its wind-bedraggled shores, but whatever the case,
I
love Chicago
. I seriously regretted my decision to turn down my University of Chicago offer for a full 30 minutes (this regret lasted until we got on our boat tour and the wind hit), but I'm definitely recruiting for Chicago offices and I'm definitely coming back.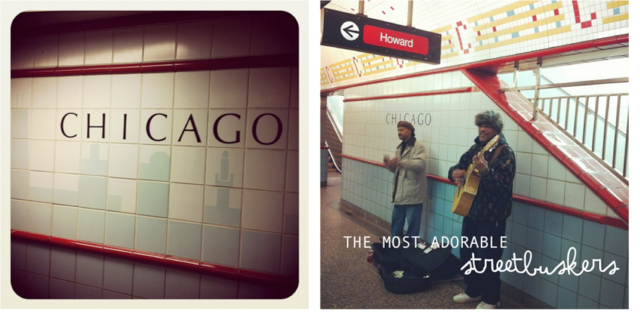 I think in many ways it was because there were so many people from RJ who ended up congregating in Chicago over Thanksgiving, and all the amazing people that we met there. For the first time in a long time, I felt like I could really TALK to people about things beyond the usual nonsense we talk about here in Berkeley (i.e. how much classes suck, recruiting, making Powerpoint slides)- not to say that that's all we talk about, but it's definitely all too easy to forget that there's a world larger than the liberal, hippie, protesting university whose views I've taken for granted to reflect the entire nation.
We spent 4 days in Chicago, so that's a little too long to have the usual brief "points of note" I usually type up when describing our adventures, so I'm going to be a little more extensive this time:
Points of note: activities
1. Basically all we did was shop, eat, and drink. It was the best 4 days of my life. But some good shopping places that we were brought to include State Street (with all the major brands; also the site where we camped out until midnight on Black Friday and literally ran into Macy's with at least 100 other crazy people), and the Wicker Park district (near the Damen blue line). Wicker Park is basically like Haji Lane in Singapore except 200 times cooler and 500 times more hipster. Also check out
Myopic Books
, which is THE coolest second hand bookstore ever.
2. Millennium Park! [refer to "spot us in the bean" photo above] There's some seriously cool public art in that space, including the bean (I'm pretty sure that's not its real name) and a silver tangle of shiny awesomeness in stage form. There are also a couple of cool gardens near the
Art Institute of Chicago
.
3. Take an
architecture boat tour
(link isn't the boat tour we took, but apparently is the best one in Chicago). I heard the word "contextualism"-when the building follows the shape of the river- way too many times than I was comfortable with, but Mallory (our boat tour guide) is now my BFF because she introduced us to Goose Island beer [see below].
4. Take the time to listen to buskers. I don't know what it is about Chicago, but they have seriously amazing music on their streets. We got serenaded to in the Chicago CTA station, and it was so much fun.
5. We also went to many Chicago neighborhoods, including Hyde Park and Evanston- it was really interesting seeing how different each neighbourhood was and made for some really fun afternoons.
Points of note: food
1. These Chicago folks know how to brew good beer. This is coming from someone who can barely stand the taste of alcohol and has a one shot limit on most nights (YES I AM A WUSS). I highly, highly recommend
Goose Island's 312 Urban Wheat Ale
. Nearly smuggled a six pack back to Berkeley with me under my coat.
2. We also came across this really fun bar in Wicker Park,
Blue Line Lounge and Grill
, while waiting to meet up with some other Singaporeans for porn and brunch at midnight (don't ask). Best. Sliders. Ever. Their drinks are also really yummy: we tried their apple martini and a raspberry mojito; both were delicious. Another cool bar we went to was
Signature Room
at the top of the John Hancock tower (last 2 pictures above courtesy of this bar)- the view from the ladies' restroom is RIDICULOUS.
3. I feel annoyed that we didn't try deep dish pizza, but what we had was delicious- tapas at
Quartino
, Korean fried chicken at
Crisp
, and Thai food near Millennium Park. But we mostly had the home-cooked goodness of mashed potatoes and turkey because we kept attending Thanksgiving dinners.
Phew. That was a much longer blog post than I had anticipated, but I hope this was helpful to anyone thinking of going to Chicago soon! I want to go back to those carefree days- I literally did not think of school once (which if you know me and my OCD worrying, is A Feat Indeed). It's obscenely difficult to focus on school right now, which is quite disturbing because finals are in 2 weeks and I have 3 papers due before then.
On Daniel's insistence, I behoove you to spot the bear in the above pictures. I didn't bring any Cal gear to Chicago, so I felt like I needed to rep the California Golden Bears through my headgear instead (:
I miss you, Thanksgiving friends! Only 3 weeks to winter break!!!!