Good morning! It's a cold, clear day here in Berkeley, and I'm going to start off the week by talking about how much I like business casual clothes. Inspired, really, by this
Shopbop feature
of their Ultimate Closet- the workwear edition.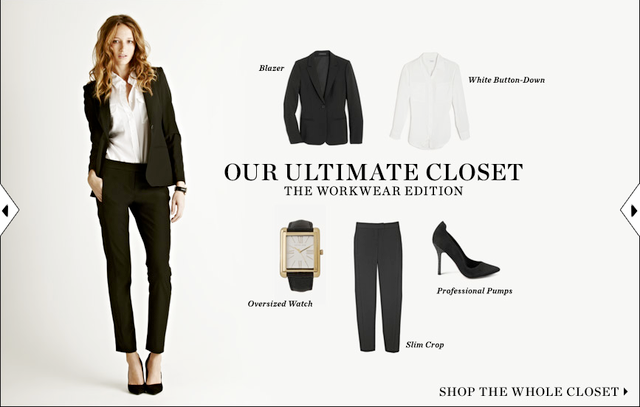 The second outfit (with the white shirt and the cropped pants) is basically my dream outfit for interviews. FOR LIFE. When I saw it I was already beginning to plan out the ways that I could incorporate each individual piece into my everyday wear- to the point where I actually went on eBay and placed bids on some white Equipment shirts, only to be thwarted by dastardly people who clearly have too much time on their hands and not enough places to wear these shirts to. /frowns. And that Marc Jacobs polka dotted shirt!! It torments me, it does. I'm on this huge polka dot kick right now so I really, really, really want that shirt.
We're going into the city on Thursday to get some Brooks Brothers shirts (30% off for members!) (p/s I am definitely not the one with the membership card), and I think I'll pop into J Crew to try on their Cafe Capri pant.
Now that all that girly babble is done with, I need to express how much pride I have in myself this morning- we have to do 4 units of research for my organizational behavior class, and I am nowhere near completing those units because other people are so on top of signing up for research slots. So this morning when I received the email about open slots I literally LEAPT out of bed (at 8.20am mind you) and RAN to my computer where I SUCCESSFULLY signed up for a slot. Yessssssss.
With that, happy Monday!