I honestly still feel a little dazed after spending the past 7 hours with the same group of people (my OB team). They are super fun, but we basically stayed in a tiny library study room and edited our project-paper to the tiniest details. It was kinda ridiculous.
In happier times (Monday), Dan and I randomly decided to go on an Adventurous Date Around San Francisco (with the possibility of winning $10,000 and a lifetime membership to Adobe CS6.) (We didn't win. Dan is still heartbroken about this.) Pictures!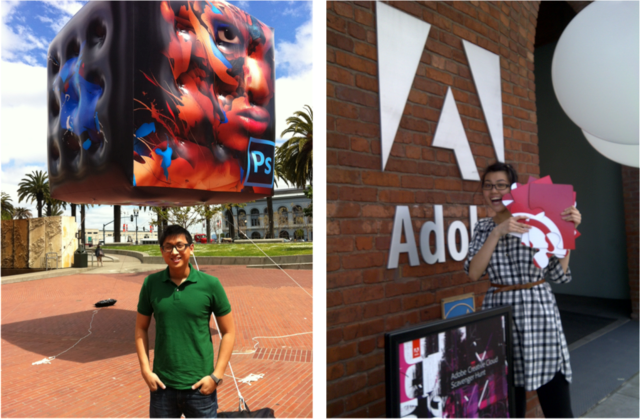 It was a really gorgeous day in SF, and we basically had to make 6 pit stops around the city to grab these giant puzzle pieces that would form the logo of the new CS6 suite. This is mildly embarrassing, but I actually had a really good time because Dan would make these ridiculously competitive statements like, "run is fun! walk is dog! must win!!"
...which clearly don't make sense, because the winners were completely chosen at random (there were 3 final puzzle pieces that were specially marked as the winning pieces).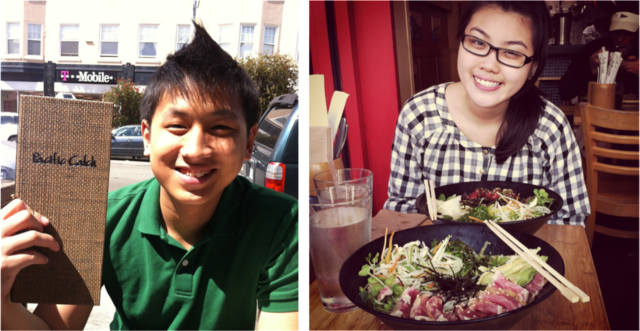 Ohhhh so good. The neighborhood that this was in was also super cute, and we just spent time wandering around and discovering new cute stores. It was totally random because we just decided to Go To San Francisco on a Monday and Have Fun, but so worth it!! Also because I spent 6h in front of my laptop just EMAILING NONSTOP when I got home. Which caused me to have a mini stress breakdown. This feeling of panic and drowning in neverending work has not worn off; I just have learnt to cope with it by making lists and lists on post-it notes and frantically ticking them off. I think it's just that time of the semester, and the only way through is to just get through it. Onward to more reading!
p/s Please excuse our dorky glasses; I couldn't wear contacts because of an eye exam I had scheduled today (to get a prescription for new glasses! Whoo!) I have no excuses for Dan. ;)