Coloured jeans are everywhere this season, especially coral (Kate Middleton, I'm looking at you) and red, and I've been on the serious look out for red jeans lately. But when faced with the plethora of choices (and the many, many girls in red jeans this season), I decided to take the road less traveled (ha) and decided to get mustard jeans instead. I LOVE mustard; I think it's the perfect neutral, and have paired it with everything, so how difficult can it be to wear mustard jeans, right??
Wrong. Hence this Two Ways, featuring mustard jeans from
Hudson
. I have to say first of all that these jeans are ridiculously overpriced ($160 for a pair of trendy jeans?? No, no, no)- and I'm only using them for the purposes of brainstorming potential outfits. I got mine from Forever 21 (clearly I get all my pants from Forever 21 these days...), and they were $25.
Zara
, Target, and
Urban
all have more affordably priced mustard/ colored jeans in general, but none of them had the perfect jean cut-out for the Polyvore set, hence me linking to them instead of featuring them.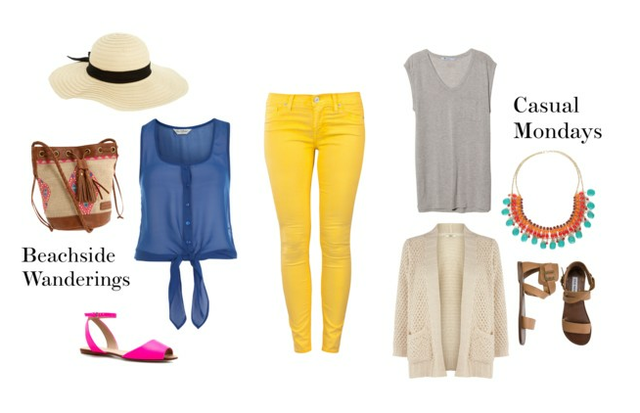 Polyvore set here
.
Beachside Wanderings
I decided to go crazy- honestly, my first choice was this amazingly kooky flamingo print tee from Vero Moda (sold on Asos), but I KNOW that I would never wear that and Two Ways is all about imagining different ways to wear pieces in my wardrobe, so I restrained. BUT, how cute is the neutral blue shirt with the jeans? (This, by the way, would also be a good Game Day outfit for the Fall- without the hat of course). I've been dying to use this ridiculously hot pink sandals from Zara in a set, and I think the pink-yellow combination is, while vaguely nauseating, really interesting. Especially since the rest of the pieces are fairly neutral- the Billabong drawstring purse picks up the pink accents in an unobnoxious way. Topped with a wide-brimmed hat and I think- perfect beach town wandering outfit!
Casual Mondays
This is a more neutral colour palette, but I like the contrast of textures. I've featured fairly expensive items here (for a student at least- nothing is above $100, but everything is above $50 with the exception of that gorgeous necklace- $21 from Lulu's.com; so adorable, right?), but they can easily be swapped out for cheaper items with similar shapes. I really want to purchase a T by Alexander Wang shirt; I've heard they are butter soft and drape perfectly, but really any grey t-shirt should do the trick. I'm also looking for a new open collared, oatmeal-coloured cardigan since my current Forever 21 one is practically in shambles, and I like the boxy shape of this one from Oasis. All the pieces are just great basics that will go well with basically anything, and I think they're great investment pieces (or as investment as under $100 will get you).
I think the necklace is what really makes this outfit though, the colours in this one are just so pretty and perfectly complement the mustard without being too crazy.
Want me to feature an item in Two Ways? Drop me an email or leave a comment! :) Happy Monday!