I had so much fun with my leopard print dress post from last week that I decided to do another Two Ways post! This time, featuring an adorable
polka dotted blouse from Pull & Bear
.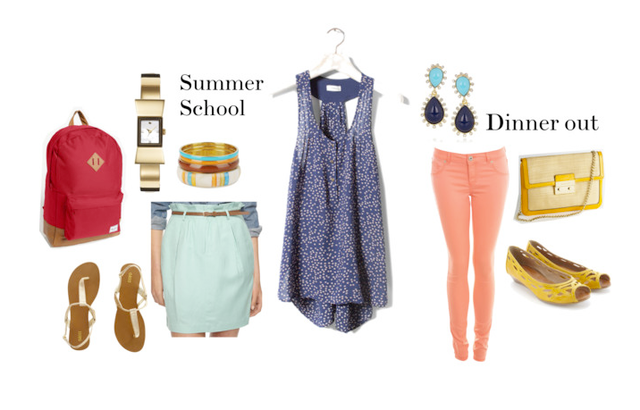 Polyvore set here
(i.e. click on that link to see where to purchase these items)
I am obsessed with polka dots and with the start of finals week I can literally taste freedom on my tongue. It is tantalisingly near and I can't wait to move to New York (!) I think this blouse is just perfect for summer- it works as a casual top for school but can also be dressed up for a dinner out at a casually-fancy restaurant (or maybe this is just my California sensibilities coming to the fore- I'm not sure if this would be appropriate East Coast dinner attire at all)
Summer School
Paired it with a cute little mint paper bag skirt (wear the top tucked in, of course) from Forever 21. Mint is such a perfect summer colour but is so much less treacherous than plain white! I personally like dressing a little more formally to class (I hardly ever wear shorts to class), but this could easily be swapped out for a cute pair of white
denim
shorts
or
mint shorts
.
In freshman year I NEVER used a backpack (and in fact I did not carry a backpack for 6 years before my sophomore year of college), but I take 2 English classes a semester now and for some nefarious reason I have been assigned a huge Norton anthology every semester. Therefore- the backpack. I think this red backpack is super cute and can carry all the laptops/ books/ readers that one's professor desires, which makes it perfect for school and your shoulders.
Gold accessories- I am in love with this Kate Spade bow watch, paired with an armful of enamel bangles and gold sandals that look so much better than rubber slippers!
With long beachy hair waves (I like
Bumble and Bumble's Surf Spray
) and simple makeup-- perfect for class then shopping/ the beach!
Dinner Out
I am itching to purchase a pair of coloured jeans for the summer. These are $65 at Miss Selfridge, but I'm still doing research for a cheaper pair (I'm considering these
Zara ones
and these
Target ones
at the moment, but jeans are so tricky and I'm going to wait until I have time to go to San Francisco to try these on in person). I love the blue/ turquoise earrings with the coral and navy (the ones featured here are a little pricey, but I think they are classic dressy earrings that match almost anything!) and I think the gold elevates the whole outfit to something a little dressier.
I think mustard is the most underused neutral and those little cutout wedge-flats are so cute for the summer! Please show me a more perfect summer shoe. Clearly, I am not a heels girl, but there are so many cute flats out there that I don't really see the point of purchasing heels (or the potential embarrassment of falling on my face).
For makeup and hair I'm thinking a messy, low ponytail and some bright blush. Super fun for date night out!
I'm having too much fun with these posts that I think I might make this a regular feature! Thoughts? Any item of clothing you'd like me to go crazy on? Email me at hello [dot] towit [at] gmail [dot] com with the link and I'll see what I can do :)